Flyover China — About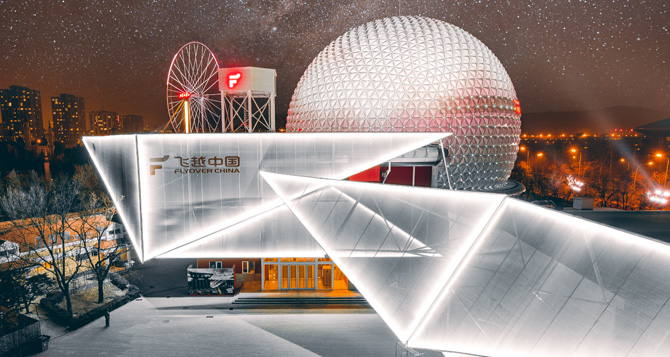 Flyover China Cinema
Audience sits with feet dangling from the seats while facing a massive 20-meter spherical screen. Flyover China utilizes state of the art technology, making it a stunning visual feast.
Special 4D effects are created with the floating "I-ride seats" which even adds wind mist and scents to the ride. The cinema brings together a unique aerial tour experience.
The Production
Created by an experienced media team, comprised of CDN Film, Australia Edge Studio Productions & Xinhua Net which partnered together to produce the ride.
It took more than a year, through a journey well exceeding 70,000 kilometers, having spanned 133 Chinese cities, and covering China's most famous landmark attractions. Thanks to an experienced team, they managed to reache difficult to access places for your viewing pleasure.
It captures Tianshan, Kunlun Mountains, Tibet and many magnificent sceneries. Taking the audience to a wonderful journey through China that doesn't tire your feet.
Home | About | Directions | Tickets