Legend of Jinsha — Beijing Workers Club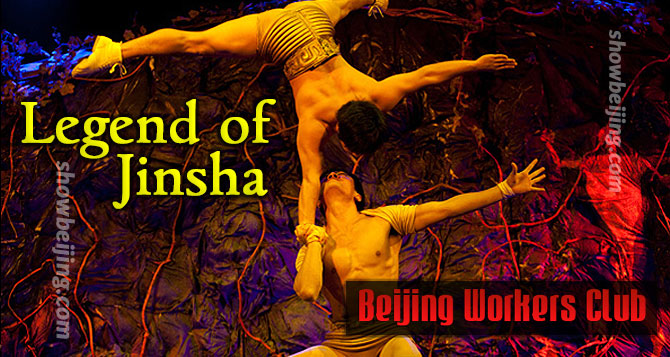 For over ten years straight, the Beijing Workers Club theatre has hosted perhaps the most atmospheric acrobatic show in Beijing. Known as the Legend of Jinsha, this performance has a very unique mystical style with incredible costumes and intense atmosphere. Audience have to hold on to their seats, while watching the amazing feats and choreography being performed.
Centrally located with easy access on metro line 7 and two daily shows (see below for details). Not to be missed to witness an original atmosphere and a remarkable achievement in the transformation of Chinese acrobatics.
Legend of Jinsha Discount Booking Form
Legend of Jinsha show has been discontinued
We apologize for the inconvenience!
Meet our staff in front of the Beijing Workers Club entrance to purchase your discount tickets. Not available directly from ticket window. — Note! If late or there is a change in your schedule, please contact us as soon as possible. We will be waiting for you.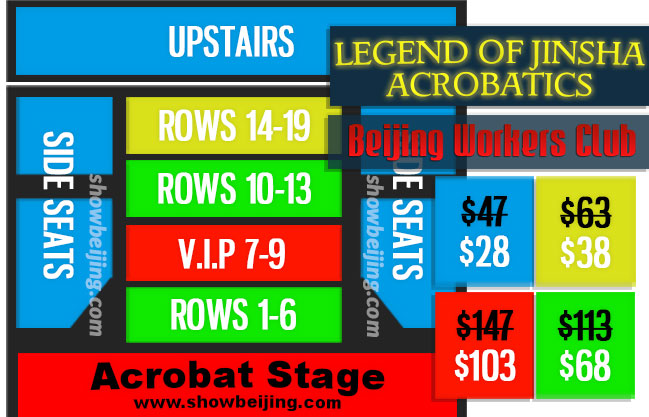 Theatre — Show Name:
Beijing Worker's Club (Jinsha Theatre) — Legend of Jinsha Acrobatic Show
In Chinese:
北京工人俱乐 (金沙剧场) — 神话金沙
Address:
7 Hufang Road
Xicheng District, Beijing
In Chinese:
北京市西城区虎坊路7号
Access:
Metro Line 7
Hufangqiao Station: Exit D
Station Name in Chinese:
虎坊桥
Show Time:
Two shows daily at 5:30PM & 7:30PM
Price displayed in (CNY) Chinese Yuan per person. Bookings are for seat sections. Please come 30 minutes before the show starts to get the best possible seats for your section.
Home | About | Directions | Tickets