GuanYuan Theater — Hi! Beijing Acrobatic Show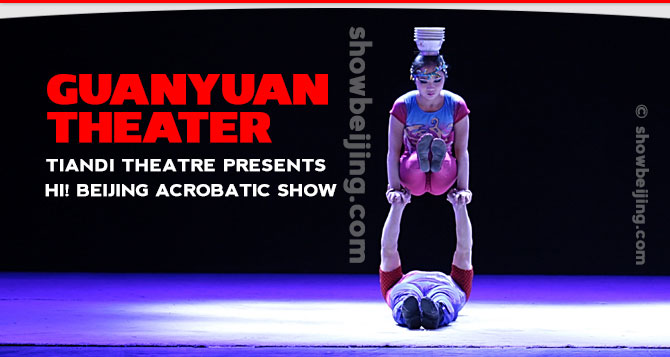 Please Note! — The acrobatic show has been moved to DongTu Theatre (东图剧场)
The stunning acrobatic performance, 'Hi! Beijing' is now showing at the Palace Park Theatre "GuanYuan Theater". Along with the closure of the famous Tiandi Theater in Beijing, the production moved here with ambition, to create a new exciting and refreshing style of acrobatic story telling never seen before.
— "A delightful time travelling story, interwoven with legendary adventures and amazing acrobatic feats!"
The story starts 20,000 years ago when the main character of the show met the famous 'Beijing Ape' at the legendary Zhoukoudian, it then winds through history following his adventures. The hustle and bustle of the capital city in 1215, his life as a street entertainer in the 1920s, his experiencing the development and modernising of today's Beijing. As time passes the historical stories are left behind and what is left is the beauty of Beijing. Beautifully expressed through exciting choreography, dance and music.
The show builds on the legendary adventures of the main character, to lead its audience to a magical journey filled with some of the most skillful and unique acrobatic feats in Beijing.
Show the confirmation e-mail or your name and our phone number at the theatre ticket office to purchase your discount tickets. Please pay by cash at the counter. — Please Note! If late or any change in booking, inform us as soon as possible.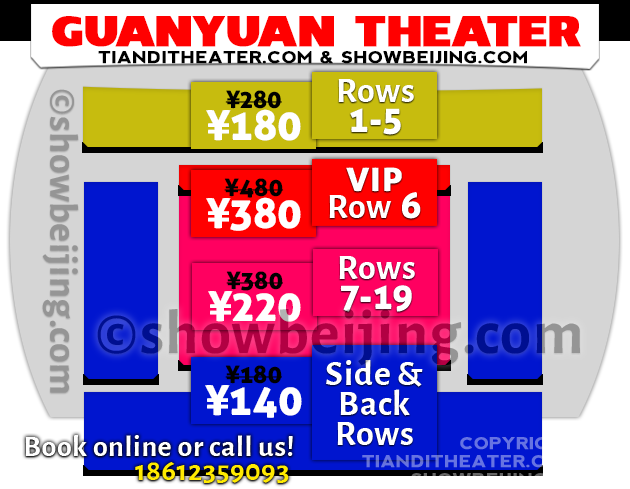 Theatre — Show Name:
GuanYuan Theater — Hi! Beijing
In Chinese:
官园剧场 — 嗨!北京
Address:
43 Ping'anli West Street, Xicheng District, Beijing (In China Children's Center, Chinese: "中国儿童中心")
In Chinese:
北京市西城区平安里西大街43号
Pinyin — 43 Ping An Li Xi Da Jie, Xicheng Qu, Beijing Shi
Access:
Metro line 2
Chegongzhuang Station: Exit B
Station Name in Chinese:
车公庄站
Discount tickets only available online, book now to reserve your seats!
Home | About | Directions | Tickets