Chaoyang Theatre — The Flying Acrobatic Show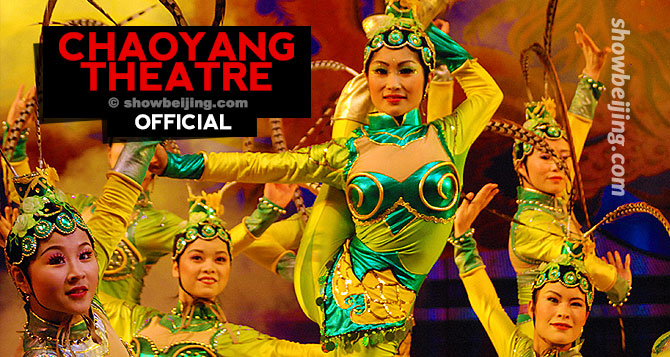 Flying Acrobatics in Beijing
The Chaoyang, or Morning Sun Theatre was built in 1984 and was designated as a special tourist venue by the city of Beijing. In 2001 it was awarded a national cultural award by the government and is now best known for its trademark "Flying Acrobatic Show" performances.
The varying acts at Chaoyang Theatre are known for an uplifted, colorful atmosphere. This is a classic well known show in Beijing and a definite crowd pleaser!
Chaoyang Theatre Discount Booking Form
Discount only available for tickets booked online. Full refund for cancellations. Bookings and cancellations allowed up to two hours before show starts.

Please note: Ticket window full price without booking. Availability not guaranteed.
Theatre — Show Name:
Chaoyang Theatre —
The Flying Acrobatic Show
In Chinese:
朝阳剧场 — 杂技飞翔
Address:
36 North East Third Ring Road
Chaoyang District, Beijing
In Chinese:
朝阳区东三环北路36号
Pinyin — 36 Dong San Huan Bei Lu, Chao Yang Qu, Beijing
Access:
Loop line 10 — Rapid transit rail line 6
Hujialou station: Exit C1
Station Name in Chinese:
呼家楼站
Show Time:
Now two shows every day at 17:00 & 19:00. Show lasts for 1 hour.
Price displayed in US Dollars (USD) per person. Bookings are for seat sections. Please come 30 minutes before the show starts to get the best possible seats for your section.
Home | About | Directions | Tickets