Chaoyang Theatre — About The Show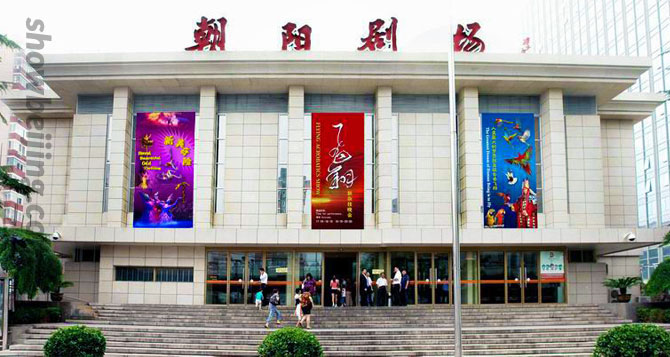 About Chaoyang Theatre
The 1984 built Chaoyang Theatre is one of the most popular acrobatic venues in Beijing. The theatre is strategically located in the Chao Yang district, East 3 Ring Road, North Road, right in the centre of the Central Business District. This area has luxury apartments, hotels and TV stations.
The theatre which seats 1,300 people has several daily exclusive acrobatic shows year round. Its shows and acts have won at least 30 national and international awards, including a gold medal at the 29th "Tomorrow" International Acrobatic Competition in Paris, France and gold at the National Acrobatic "Golden Chrysanthemum" award. Other acts won silver in the mayoral acrobatic competition and topped the rankings in the 6th National Outstanding Acrobatic Cultural competition.
The theatre has invested heavily in high quality stage equipment, and paired with incredible discipline and skills of its performers The Chao Yang Theatre has thrilled and delighted guests from all over the world. Audiences now number in the millions and have included presidents, prime ministers, senior diplomats and other major dignitaries and they have thoroughly enjoyed these wonderful displays of Chinese culture.
The Flying Acrobatic Show
The acts being performed can vary on a nightly basis, however here are some examples of the incredible feats that have been presented at the show.
Ballet: Incredible choreography and amazing costumes.
Cycling Act: This is a very difficult act carried out by a group of 10 girls, which culminates with all of them on one cycle! This act has travelled the world and has been widely acclaimed in America, Korea, France, Russia and many other countries.
Contortionists: This is a highly skilled but visually stunning act, illustrating harmony and unison in which the performers make incredible shapes and positions with their bodies. It is one of the most popular acts in the show.
Hoops: Combining fluidity of movement, physical contortion, exceptional balance and impressive dexterity, this is a hoops act showing a rare demonstration of skill.
Balancing Plates: Grace, strength and flexibility are astonishing, as young women balance plates on a series of strategically placed canes.
Juggling: With an excellent display of teamwork, this ball act demonstrates balance and equilibrium.
Chair Balancing: The equipment is as simple as it gets, the actors use chairs to create a high tower on which to perform a balancing act that displays human bodies at the very peak of condition and muscular control.
Home | About | Directions | Tickets